Login
Log in if you have an account
Dont have an account? Register
INSTRUCTORS + TOUR GUIDES
Meet Your Instructors!!
Cristina –
Cristina first began her yoga practice almost nine years ago.  Yoga initially caught her interest after her gymnastics career came to an end.  Through the years, the emotional and mental benefits of her yoga practice began to make an incredible impact on her and her love and passion for the practice grew deeper.  As a teacher, she hopes to pass that on to her practitioners.  The guiding principals of breath, awareness, discipline, compassion, and attention to heart at the core of our yoga practice are essential principals that help cultivate a deeper connection once you step foot onto the mat (or paddleboard).   
Kim –
Kim is a highly creative and very passionate yogawellness entrepreneur whose positive and peaceful energy is infectious as she shares the healing powers of yoga and its' benefits.  She brands herself as a community collaborator and motivational teacher.  Her teaching and practicing inspires students to a happier and healthier lifestyle by bringing awareness to the importance of connecting to nature and the elements; with water being the greatest influencer.  Kim's teachings, energy and aura, will leave you with a sense of clarity and peace unlike no other. 
Layna –
Layna is a very peaceful, but powerful yogi.  While being a 200-hour RYT in Vinyasa, leading a fiery power class, she also holds an incredible space for restorative and yin practices merging your physical practice with a mental and spiritual aspect.  She strives to have each student tap into that divine intrinsic value we all hold by connecting deep within nature.  Layna's home studio is Breathe Salt Yoga, but also leads various outdoor community-based classes and even leads yoga retreats in St. Croix and different locations in Central America.  As our resident mermaid yogi goddess, you will most likely find yourself flowing to some tranquil reggae and wanting to go float in the sea or immerse yourself in nature after her class.  Come out and try her SUP Yoga on Water class, every Wednesday at 10 a.m. at Blueline.
Neil –
Neil started his yoga journey a little over three years ago.  When practice was over, he felt that his mind was completely quiet during shavasana.  Maybe for the first-time ver.  From there, he continued regular practice, traveled to India and got to practice just outside of Rishikesh.  The following year, he completed his Yoga Teacher Training and has been spreading his practice everywhere he goes.  He says, "Yoga allows us to slow the mind, be the observer, and move from a still center, instead of letting life drag us around."  Being from Miami, Neil grew up on the water and has a deep love and appreciation for the ocean.  The ocean draws him in with her magnificence.  It is his passion, curiosity, and spirit for both the outdoors and yoga practices that create such an unforgettable outdoor yoga session with him as your teacher. 
Julie –
Julie's yoga practice started at the age of 13 and her paddleboarding obsession began in 2010.  She completed her 200-hour Yoga Teacher Training in 2013, right here in Jupiter, Florida.  She has been teaching and leading tours for us at Blueline ever since!  Her passion lies in connecting humans to nature and inspiring healing for themselves and the planet.  In most classes, you can expect a nurturing, sacred space with fluid, breath synced, calisthenic movement arriving at a deep, supportive savasana.  She also volunteers and participates in the Crossing for Cystic Fibrosis, an annual event where paddlers cross the Gulf Stream from Bimini to Lake Worth, in June, raising money for the Piper's Angels Foundation.  Julie is also available for private tours, lessons, or yoga sessions throughout the week.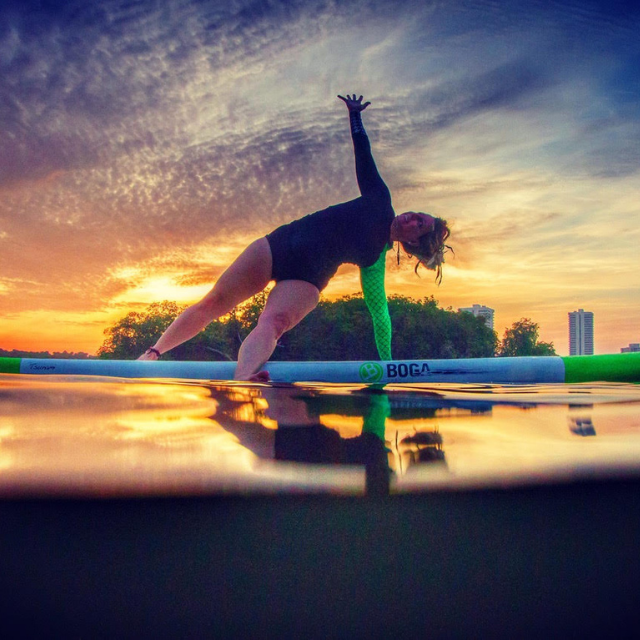 Max -
Max's love for nature started at a very young age, and has never left her.  She moved to Jupiter about six years ago from Illinois, to "change her stars."  Jupiter was a place for her to become a paddleboard guide.  She enjoys making memories with people on the water that last a lifetime.  Her passion for the outdoors is evident by everyone who joins her on the water and she has never had a job that has brought her and others, so much joy. 
Jeramie -
Jeramie's passion for the water is revealed through his teaching style.  His playful approach caters to all ability levels, from those who are new, to those who are familiar with all things water and water sports.  He provides a rewarding and unforgettable experience with every class and session.  Whether he is teaching a soothing, stand-up paddleboarding yoga on water session, a beginner paddleboard lesson, or an in-depth race training class, he encourages you to overcome any obstacles that life throws at you, both on and off the water.